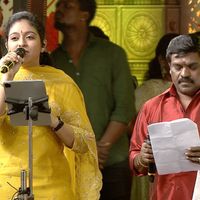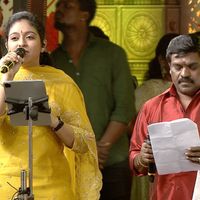 Composer Notes:

This welcome theme song is a dance drama production that was composed/song written (melody), music produced, arranged, record produced by myself. Sung by myself along with Eminent Singer Velmurugan.

I conducted & recorded the entire session comprising a plethora of instruments including ancient traditional percussions of Tamilnadu, highlighting the "Beats of Tamilnadu" & "Rhythm of India".

I've arranged this piece of music/dance drama production with 7 sections, a duration of about 9 minutes.

Commencing with the grooves n beats of the Tamilnadu folk tradition in the 6/8 rhythm, this song introduces the land of Tamilnadu with the Adlib section & shifts with dramatic moves striking towards the action/thriller styles in 4/4 rhythm & delving to deliver a promising attitude to create a new world.

The mid passages convey the theatrical aspects starting right from the ancient times to present day scenario & hence the music is a blend of contemporary style merging with genres such as World, Indian Pop, Indian Folk & the Ragas of Hindustani Classical Music & Carnatic Classical Music (Indian Classical Art Forms). This segment quickly introduces a Hindustani Classical Music Swara section concluding with a "thihaayee", a technical term to sign the end of the swara section.

The finale of this song travels towards a greater vision to portray the significance, cultural values & disciplines of the land of Tamilnadu, depicting the prevalence through generations.

The music for the finale has been written in a grand manner, comprising heavy orchestral arrangements matching the dance styles that focus to highlight the theme "Idhu Namma Tamilnadu" (It's our Tamilnadu).

Artists featuring:
Composer, Music Producer, Arranger - Miss. S. J. Jananiy
Singers - Ms. S. J. Jananiy & Mr. Velmurugan
Chorus - Chennai Vox Team
Indian Percussions: Tapes, Bass Drum, Tavil, Tabla, Mridangam, Kanjeera, Kidukitti (rare ancient percussion), Urumi, Jamak, Manjeera, Tambourine, Timers - Mr. Shruthi
Violin - Ms. B. Jeysri
Bass Guitar - Mr. Keith Peters
Nadaswaram - Mr. Mambalam Sivakumar
Flute - Mr. Natarajan
Konakkol (verbal percussions) & VoiceOver - Mr. Manian
Chennai Vox fixed by Mr. iLangovan
Recorded by S. J. Jananiy & P. G. Ragesh @ 3 Dot Recording Studios, Chennai, India.
Mastered by S. J. Jananiy @ 3 Dot Recording Studios, Chennai, India.